Georgia Ellexson Memorial
The memorial fund honors a woman who was a trailblazer for female attorneys in Arizona. She was known for her keen legal mind, willingness to mentor young colleagues and for her dedication to her family. This memorial was established to assist graduating law students, interested in pursuing a career in public law, successfully complete the Arizona State Bar Exam.
---
The Award Program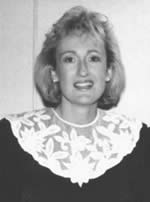 The State Bar of Arizona Public Law Section, working in partnership with the Arizona Foundation for Legal Services & Education, established this memorial to honor a dear friend and professional colleague. The annual award will be given in the Spring of each year to a graduating law student interested in pursuing an Arizona State Bar license to practice Public Law. A maximum award of $500 will be given on an annual basis. Applications are due to the Public Lawyer Section. Award notifications will be sent by to the award recipients. Awardees are responsible for any and all tax obligations which may be associated with the award.

Contributors to the Memorial
Eligibility Requirements & Application
Have successfully completed law school.
In need of financial support to assure adequate review in preparation for the Arizona State Bar exam.
Have a stated interest in pursuing service in Public Law
Willing to submit a personal letter of application meeting the following outline:
Personal Information (submit current resume)
Statement of interest (In 500 words or less describe your background and future plans in public law. No single factor is demonstrative of dedication to public law. Include information which demonstrates your commitment to public service.)
Additional Statement of Need (describe any special financial need that you have)
The application letter must be submitted to:
Arizona Foundation for Legal Services & Education Attn: Georgia Ellexson Fund
4201 N. 24th Street, Suite 210
Phoenix, Arizona 85016
---
2014 Recipient - Bradley Saran

Bradley Saran has spent the majority of his life advocating for other people's rights. He was taught by his father, Dr. Richard Saran, at a very young age the benefits of impacting the lives of others.  After graduating from Arizona State University, Bradley decided that going to law school would give him the essential skills necessary to help people resolve their legal issues. In his first year at Arizona Summit Law School, Bradley quickly began helping defend the indigent with their housing and bankruptcy issues at Community Legal Services. While Bradley enjoyed defending the indigent with their civil issues, he wanted to expand his legal knowledge and began defending the public with their criminal issues at the Maricopa County Public Defender's Office as well as Phoenix Municipal Court. Bradley's passion, enthusiasm, and hard work shined in and out of the court room.
"Getting the hands-on experience while being able to use my legal knowledge made preparing for and going into court, something I looked forward to. I really loved being the person who was responsible for making sure that, if anyone wanted to take away even one of my clients liberties, I advocate my clients rights and ensured that they received a fair trial."
Since graduating law school, Bradley has continued to pursue his passion to ensure people's liberties and is advocating for the public's rights for the Civil Rights Office at the Arizona Department of Transportation. 
2013 Recipient - Germar Townsend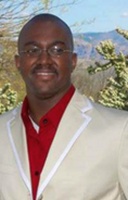 Germar Townsend has moved around quite a bit as an adult, but he's always found time to give back to his community.

"My family's spread throughout the southeast, but if I had to pick one place to call home, it would be Atlanta," he said. "It was always the hub of my life: I began life as an entertainer, performer, and producer." In fact, he began performing at age seven, and continued as a dancer, actor, musician, writer, and director through college.

But he's always worked with kids - as a teacher, camp counselor, coach, and mentor. "At some point I realized that I enjoyed working with youth more than pursuing Hollywood. I wanted to make a difference." While working as an AmeriCorps VISTA member, he moved to Tucson and applied to Arizona Law.

Throughout law school, he has continued to give back. "I've had the privilege to work with undergraduates and first-year law students as a mentor, instructor, and adviser. It is by far the most rewarding part of my Arizona Law experience. The impact of these relationships is immediate and awesome."

Germar is an excellent ambassador for the College as well. "I met a Tucson native at an LSAC forum in LA," he recalled. "We talked for a while, and because of that meeting, she's now a student here! Twice, I've participated in panels for first-generation undergraduates. And now twice I've taught for the law school's undergraduate course titled Sex, Race & Power in the Supreme Court. Those students still contact me for advice about law school applications and interviews."

Outside of the law, Germar admits that he mostly does... well, law. "My life is a jumble of internships, moot court, student and faculty committees, a research assistantship, conferences, and competitions." But he also managed to keep his mentoring and media skills sharp. "I've done video editing and A/V for the school and community organizations. And I've worked as a youth director at a local church for the past four years."

After graduation, he hopes to work for the federal government, preferably in Washington, DC. "I've crafted my coursework and experiences for a variety of related paths, and I'm currently clerking for the Federal Public Defender's Office, which I absolutely love doing!"
---
Past Winners
2012
Stephanie Green
2010
Linda O. Imonode

2009
Edward Johnson
2008
Mary Hollingsworth
2007
Kristin Starr
2006
Sandra Bensley