LRE Officer of the Year Award
The Law-Related Education Officer of the Year Award recognizes exceptional contributions of Arizona police and probation officers in furthering education and understanding of the role of the law in our democratic society. This award focuses on public awareness on the contributions that the officer provides to the community and Arizona schools.
Nominations are due March 1st and are to include the individual's name; school if applicable; address & other contact information; the award for which they are being nominated and contact information of the nominators; a summary of their characteristics, experiences, and service that qualifies them for the award; and support letters from others may be included. The nomination should be sent to The Arizona Foundation for Legal Services & Education, ATTN: Kevin S. Ruegg, 4201 N. 24th Street, Suite 210, Phoenix, AZ 85016 or fax to 602-271-4930. You may also email materials to [email protected]
2018 Awardee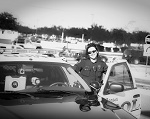 Officer Melissa Larkin
Marana Middle School
Ofc. Larkin is dedicated to keeping Marana Middle School safe as well as to instructing law-related education. She is passionate about teaching students about the law and how to be a 'good citizen', and her efforts are appreciated by both staff and students. She is always willing to help, whether through counseling students or participating in school events. Officer Larkin has the ability to create unique relationships with students, as demonstrated in students' excitement when speaking with her. Her devotion to her school as well as law-related education has had a huge impact.
2017 Awardee

Officer Jason Groen
Phoenix Police Department, Bethune Elementary
Officer Groen has been with Bethune Elementary for the last 4 years, and has consistently gone above and beyond. In addition to completing the mandatory LRE cohort hours, Officer Groen gets involved with the community with school events, anti-bullying patrol squads, Wake-Up Club, and bicycle events to provide students the opportunity to participate in fun structured activities outside of school hours.
Through these activities he has made a positive impact in the lives of the students of Bethune.
"I am happy you are at our school. You taught me lots of things. You are good at teaching." - Elementary student.
2016 Awardee
Officer Fernando Gomez
Chandler Police Department, Aprende Middle School, San Tan Junior High School
Officer Gomez has spent the last six years as a School Resource Officer going above and beyond. He has taught over 271 hours (only 180 are required) creating a positive impact among the students, teachers, parents and staff. He has been one of the leaders in organizing the Chandler Police Department Wilderness Trip Experience for junior high kids. This week long program teaches kids to understand nature,constructive interaction and good character.
Gomez has developed or been involved in several other programs to get students engaged including 3 on 3 basketball tournament, Chandler Police Youth Academy, and Cyber Safety classes. He is a great asset to his department, school and community.
2015 Officer of the Year Award
Officer Stephen Dieu
Summit Jr. High School
Often referred to as "Super SRO" by colleagues, Officer Dieu has exceeded his requirements of LRE by almost 100 hours so far this school year. Additionally, he assists with the neighboring elementary school to help with younger students and teachers. Officer Dieu has been instrumental to Summit and to other schools in securing grant funding for years to come. Officer Dieu is a faculty member at the Foundation and assists in development and instruction of LRE curriculum. Officer Dieu also dedicated time outside of work to various organizations, including the Boy Scouts and a group which repairs homes of the elderly.
2015 Elementary Awardee
Officer Carla Anderson: Arrowhead Elementary School & Indian Bend Elementary School
Officer Anderson has been instrumental at both Arrowhead and Indian Bend Elementary Schools. At Arrowhead, she stared a new program, the Kindness Patrol, encouraging students to take leadership roles seriously. At Indian Bend, Officer Anderson supports the Kids at Hope belief by working with the social worker to help mentor students and encourage a path to success. Officer Anderson helps to create an environment conducive to learning at school and has been a positive role model to students both through work and through her personal missions to improve conditions in Haiti.
2015 Middle School Awardee
Officer Rex Peterson: Sonoran Trails Middle School
Officer Peterson has taught approximately 250 hours of LRE so far this year, often covering controversial issues that are interesting and relevant to students. He teaches information in a realistic manner to help students to make important and informed decisions. He is visible on campus daily, talking with students and teachers regularly to build relationships and trust. Students look up to him as a role model and both teachers and students feel safe asking him questions and expressing their opinions.
2015 High School Awardee
Officer David Woodard: Basha High School
Officer Woodard has been an SRO for almost 30 years, the last ten of which have been spent at Basha. In addition to required LRE, Officer Woodard teaches Police Science, a class designed for students interested in pursuing law enforcement careers. He organized a field trip for student to the Chandler City Courthouse and even helped to purchase student lunches with his own money. He has taught 255 hours of LRE so far this year and will continue to add to that number throughout the year. Officer Woodard also dedicates a significant amount of time to activities outside of school, including volunteering at the Boys and Girls Club and building houses for orphans in Uganda.
2014 Award
Det. Larry Baggs
Connolly Middle School
2013 Award
Officer Brandon McCombs
Sierra Linda High School
2012 Award
Isaac Easley
Tolleson Union High School.
2011 Award
Officer Brandon Clark
Show Low High School
2010 Award
Augustine Sauceda
Cactus Middle School
Casa Grande, AZ
2009 Award
Melissa McCormick
Rincon High School
Phoenix, AZ
2008 Award
Gary Douglas

2007 Award
Alan Ienn

2006 Award
Jeanette Brambila
enforcement of laws in the United States.
2005 Award
Andrew Wood

2004 Award
David Franquero

---