IOLTA for Lawyers
Client Trust Accounting for Arizona Attorneys
The in depth trust account manual covering the rules and requirements of maintaining an Arizona trust account has now been updated for 2014. Click here to download the manual.
New IRS Rule Could Cause Problems If You Accept Debit or Credit Cards – January 1, 2013
Starting January 1st, attorneys who accept credit cards need to make sure that the names on their merchant accounts match the ones the IRS has on file. Some attorneys may have used abbreviations or acronyms when they opened their accounts. Read SBA article...
Arizona IOLTA Newsletter - See how YOU help IOLTA to help your community!
---
Arizona Supreme Court Rule 43 requires all lawyers who receive client funds in Arizona or in connection with representation of clients in Arizona to maintain an interest-bearing trust account in an approved financial institution to pool client funds of minimal amounts.
To select a financial institution for your Arizona IOLTA account, please see our complete listing of approved participating financial institutions. When opening an IOLTA account, attorneys must instruct their financial institution to identify the account as an IOLTA account by submitting to them the Notification to Financial Institutions. In addition, the State Bar of Arizona must be notified of the new account by submitting the Arizona IOLTA Enrollment/Change Form.
For further information or guidance regarding your IOLTA account, please contact:
Trust Account Hotline: 602-340-7305; email: [email protected]
Practice 2.0: 602-340-7332
New IOLTA Informational Brochure

The State Bar of Arizona and the Arizona Foundation for Legal Services & Education have published an informational brochure about IOLTA. Click here to view the downloadable brochure. Multiple copies can be requested free of charge here.
Arizona IOLTA Newsletter
The Arizona IOLTA program is committed to regular communication with our partners, sharing information of interest about the Arizona IOLTA program.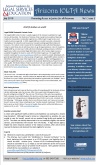 Please click here to see the July edition of our newsletter.
Newsletter Archives
April 2010
FDIC Updates
On June 22, 2010, the FDIC adopted a final rule extending the TAG program including restrictions on the interest calculations on NOW deposit. Please note that IOLTA accounts are approved separately from other types of NOW deposits and thus are not subject to the rate restriction guidelines. For details, visit http://www.fdic.gov/news/board/rule2.pdf and http://www.fdic.gov/news/board/memo3.pdf. For additional FDIC deposit insurance updates, visit http://www.fdic.gov/deposit/deposits/changes.html
Return to top