IOLTA - The Arizona Program for the Community It Serves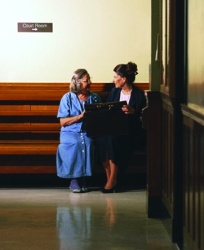 IOLTA (pronounced eye-ole-ta) stands for "Interest on Lawyer Trust Accounts," and is a program governed by the Arizona Supreme Court. It is a unique and innovative way to provide funding to increase access to justice for individuals and families living in poverty and to improve our justice system. IOLTA programs have been operating in the USA since 1981 and in Arizona since 1984. Without taxing the public, and at no cost to lawyers or their clients, Arizona's IOLTA program currently provides more than $2.5 million per year benefiting over 30,000 families with free legal services and reaching over 300,000 children with education about their rights and responsibilities as citizens. Its success is dependent upon the cooperative relationship between attorneys, the financial institutions, and the grantor of the IOLTA funds.
Why should you care about IOLTA? If you're the client of a lawyer, you might have paid the lawyer an advance fee for services before the lawyer earned the money. In that case, the lawyer may have safeguarded your money in an IOLTA account. In addition, you might have benefitted from the programs that IOLTA funds.
How does IOLTA work? To learn more, click here.
For more information about the programs funded by IOLTA grants, please visit
http://www.azflse.org/azflse/grants/lre_grants.cfm (Law-related education grants)
http://www.azflse.org/azflse/iolta/ioltagrantprogram.cfm (Legal services grants)
http://www.azflse.org/azflse/grants/joyce_holsey.cfm (Loan repayment program grant)

The State Bar of Arizona and the Arizona Foundation for Legal Services & Education have published an informational brochure about IOLTA. Click here to view the downloadable brochure. Multiple copies can be requested free of charge here.
If you would like to schedule a presentation to learn more about IOLTA, please contact the IOLTA administrator at [email protected] or 602-340-7260.