Honoring our Foundation Fellows - Peter Baird
Peter Baird, a partner at Lewis and Roca, was a supporter of the Foundation's mission long before there was a Foundation. Inspired by his social worker mother growing up, Peter became a battler for civil rights and injustice. In law school he opposed the Vietnam War and fought against segregation. He came to Arizona to work with John Frank, Paul Roca and John Flynn and his first case was the very well known Miranda Rights case. He has handled first amendment cases with the Supreme Court, civil rights cases and put in many many pro bono hours.
Peter recently published his second book, a collection of short stories, essays and excerpts entitled Protecting Moscow from the Soviets. Just like with his previous novel, Beyond Peleliu, much of the proceeds from his book will be donated to the Foundation.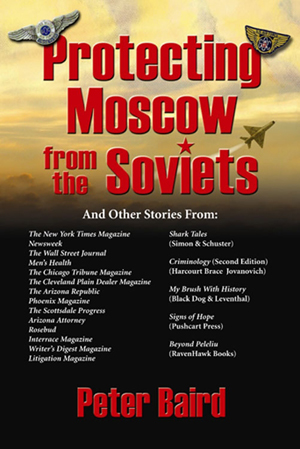 He first became interested in writing at an early age, when his mother wrote a fictional travelogue about an imaginary trip the family took to Uruguay, which won the Utah state book contest. He began writing for the high school paper and school newspaper in college, then later went on to write for several law reviews including Texas and Arizona. He has been featured numerous times in magazines and journals including the Arizona Attorney.
Baird's stories are often very personal. When asked why, he stated that he believes it is important for people to see him for who he is not through filters or lenses. Or, as Ernest Hemingway once said, he gets rid of things through writing about them.
In his story The Night the Police Came he is faced with false accusations from police officers late one night. As a past criminal defense attorney he felt he was very fortunate because one of the officers was in a similar situation and Baird had the documentation, a letter from his child's psychiatrist, to verify that the allegations were not true.
Protecting Moscow also includes a letter to his son who had just been admitted to the Bar. The letter centers around Baird's credo "first, do no harm," which he believes is a motto all lawyers must follow. Too often, he states, lawyers become so zealous, that they think they are helping their client, but they are doing harm to their client, the other side, judiciary and system. "This doesn't mean you don't represent your client to the best of your ability but you stop and think of what your actions are doing." As with most things in life you must recognize the consequences of your actions.
The Foundation is honored to have supporters like Peter Baird. If you are interested in purchasing Protecting Moscow or want to know about how to become a Foundation Fellow please contact Lara Slifko at 602-340-7235 or at [email protected]. You may also purchase the book on our Donate Now page.
---
---