Foundation Recognizes Outstanding Attorneys at State Bar Convention
June 28, 2007
Contact: Lara Slifko (602)340-7235


Print Press Release
2007 Award Winners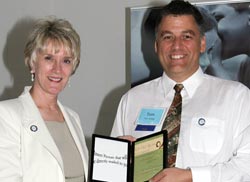 Annually, at the State Bar Convention, the Foundation honors individuals who have been recognized by their peers for providing extraordinary commitment and service to the people of Arizona. The Foundation will hold their annual awards luncheon on June 28th at the Westin Kierland Resort & Spa, where the Walter E. Craig Distinguished Service Award and William E. Morris Pro Bono Service Award will be presented. This year's recipients are William Haug and Cary Inabinet respectively.
The Walter E. Craig Distinguished Service Award is awarded to the Arizona attorney who has manifested adherence to the highest principles and traditions of the legal profession and service to the public in the community in which he/she lives. The award's past recipients include Ted Schmidt (2006), Daniel McAuliffe (2005), Paul Eckstein (2004), Peter Baird (2003), Mark Harrison (2002) and Larry Hammond (2001).
The William E. Morris Pro Bono Service Award is awarded to recognize extraordinary contributions by an Arizona attorney for making legal services available to those who could not afford them, thereby focusing public awareness on the substantial voluntary services by Arizona attorneys in this area. The award's past recipients include Tom Roberts (2006), Scott Gan (2005), David Engelman (2004), Pamela Liberty (2003), Alyce Pennington (2002) and Luis Ochoa (2001).
On the evening of the 28th, the Foundation will honor this year's Foundation for Justice recipient as well as Arizona's top pro bono attorneys. The Foundation for Justice Award is awarded to an Arizona attorney who has devoted their expertise and time to changing the justice system, thereby promoting access and opportunity for those most vulnerable. The 2007 recipient is Keith Perkins from the Never Again Foundation.
The following Top Pro Bono attorneys have shown leadership, commitment and generosity in providing legal assistance to pro bono clients in Arizona.
Top Pro Bono Attorneys:
Ron Allen
Tom Alongi
Judy Apachee
Donald L. Awerkamp
David Barrow
Redfield T. Baum, Jr.
Tohmas Bayham
F. Morgan Brown

Alena Cantor
Robert E. Coltin
Jessica M. Cotter
Bryan Daum III
Rob Ferrier
Les Gilbertson
Richard N. Goldsmith

Richard Grimsrud
Johnny Helenbolt
Tom Hippert
Kyle Hirsch
Hermilio Iniguez
Danielle D. Jantich
William Scott Jenkins, Jr.

Thomas W. Jones
Ruth Khalsa
Kurt Kroese
Todd Lang
Stanford E. Lerch
Lisa Lewis
Ed Matchett
Philip Jay McCarthy, Jr.
Katherine F. McLeod

Robert Miller
Vera E. Munoz
Sharon Ottenberg
Kevin J. Parker
James Penny
John Perlman
Dennenn Petereson
Robert W. Pickrell
Bill Poorten
Steve Portell
K Royal

Jeffrey R. Simmons
Susan Slasor
Nathan M. Smith
Heather Strickland
Richard Tobin
Randall H. Warner
Marie S. Zawtocki
Helpful Websites
---