2007 SBA Convention
Awards Luncheon
Thursday, June 28, 2007, 12:00 p.m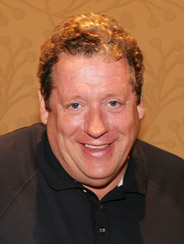 Mr. Tim Davis has been coaching professionals to capture any audience whether in the classroom or workplace and even in corporate environments to boost sales, improve presentations, increase self-confidence and communicate more effectively. His one-of-a-kind approach has helped hundred of performers, business people, salespeople, teachers, social workers and trial lawyers overcome their anxiety to become professional performers and expert presenters. As a comic Tim appeared on The Phil Donohue Show, The Joan Rivers Show, and The Montel Williams Show. Tim is a member of the National Speakers Association, the Association for Applied and Therapeutic Humor, and is on the faculty of Paradise Valley Community College. He holds a certificate in teaching from UCLA Extension.
---
Pro Bono Reception
Thursday, June 28, 2007, 5:00 - 7:00 p.m
"A Reception Celebrating the Pro Bono efforts of Arizona attorneys" (sponsored by the Arizona Domestic Violence Legal Assistance Project through Department of Economic Security). Join the Foundation in recognizing the "Top Pro Bono Attorneys" and acknowledging the impact made when, through the generosity of attorneys, legal services are made available to persons who otherwise could not afford them.
---
Foundation Seminars
Does Your Life Feel Unbalanced?
Thursday, June 28, 2007
2:00 pm. - 5:10 pm.
3 CLE Credit Hours
3 Hours Ethics
Are you struggling with your conscience because you're not doing enough pro bono? Join us as we demonstrate the multifaceted volunteer opportunities available to take away those layers of guilt and once again be able to "balance" your work with pro bono service to the community. This three hours ethics CLE will be dedicated to offering unique ways of fulfilling Ethics Rule 6.1. Our diverse faculty will cover topics from the Volunteer Lawyers Programs around the state, and provide interactive strategies to familiarize you with the many volunteer opportunities at the Arizona Foundation.
Sponsored by
The Arizona Foundation for Legal Services & Education
Seminar chairs
Barbara Nathan, Content Manager, Arizona Foundation for Legal Services & Education
Susan Nusall, Program & Volunteer Manager, Arizona Foundation for Legal Services & Education
Faculty
Tom Alongi, Community Legal Services
Elizabeth Berenguer, U.S. Dept. of Justice
Joannie Collins, Academy Program Manager, Arizona Foundation for Legal Services & Education
Danielle Janitch, Osborn Maledon, PA
Hon. Barbara Mundell, Maricopa County Superior Court
Jennifer Nickason, Program Manager, Arizona Foundation for Legal Services & Education
Luis Ochoa, Quarles & Brady LLP
Denise Quinterri, The Law Office of Denise M. Quinterri, PLLC
Roni Tropper, Coordinator, Children's Law Center
---