Arizona Foundation for Legal Services and Education
Foundation Top Stories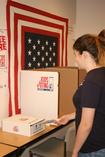 August 26th marked the 96th anniversary of women gaining the right to vote. Help celebrate by visiting Kids Voting Arizona and showing your girls (and boys!) why voting is so important.

Guadalupe Teen Court was honored in July by the National Association of Counties. Guadalupe Municipal Court Presiding Judge Lilia Alvarez, who's mission is to 'empower teens in Guadalupe', leads the program which provides the 'opportunity for skill development and growth to an under-served population.'
Featured Opportunities

2016 is a Presidential Election Year! Through the use of online games and engaging lessons, students can participate in the vote while having fun. Participants of this training will learn how to use specific on-line games and lessons to prepare their students for the Presidential Election. Through games, lessons, webcasts, and more, students learn how the government works and how they can do their part by being productive citizens. Students have a chance to be the President, solve the budget crises, implement a public policy, and much more! Also included in this training are the instructions to vote electronically in the KV Election.

We have partnered with many entities in Arizona to best compile all the pro bono opportunities available. Want to take a case? The agencies to work with are listed here. Want to write an article? We have a calendar of Guest Writer opportunities for you to view!
---
Foundation News

Visit www.LawforVeterans.org for resources and information.