The Mark Santana Law-Related Education Award
The Mark Santana Law-Related Education Award recognizes exceptional contributions of Arizona attorneys or law firms in furthering education and understanding of the role of the law in our democratic society. This award focuses on public awareness on the contributions that attorneys provide to the community.
Nominations are due March 1st and are to include the individual's name; firm if applicable; address & other contact information; the award for which they are being nominated and contact information of the nominators; a summary of their characteristics, experiences, and service that qualifies them for the award; and support letters from others may be included. The nomination packets should be sent to The Arizona Foundation for Legal Services & Education, ATTN: Kevin S. Ruegg, 4201 N. 24th Street, Suite 210, Phoenix, AZ 85016 or fax to 602-271-4930.
2013 Mark Santana LRE Attorney of the Year
Chief Justice Rebecca White Berch


Chief Justice Berch has a record spanning a decade of "promoting, inspiring, improving and leading innovations in the field of civic education relating to the justice system". In addition to her broad support for civic education efforts, her leadership has included involvement in several specific civic education programs including Mock Trial, We the People and most recently successfully promoting icivic.org.
Her support has been far-reaching and diverse from on the front lines with teaching icivics.org in a junior high classroom to arranging high-level meetings with legislators and the Arizona Superintendent to garner support for increased civic education in the school.
Chief Justice Berch′s direct involvement and strong support of civic education makes her more than worthy of recognition. Her continued leadership with the Arizona I-Civic-It program to engage students in civic education serves as an inspiration and model for others across the nation.
2012 Mark Santana LRE Attorney of the Year
Hon. Mary Murguia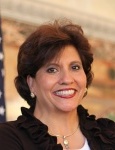 Judge Murguia started the Court Works program with ASU's Office of Youth Preparation in 2004, a melding of Murguia's and OYP's separate presentations in school across the Metro Phoenix area. The partnership provides the opportunity for approximately 325 students to experience mock trials each fall semester. Students prepare to play all roles in the case. Since the program's inception, more than 2,100 eight grade students have participated. Judge Murguia provides the venue (Sandra Day O'Connor Federal Courthouse), organizes the logistics of courtroom usage, plans the general assembly program, and provides classroom sets of "We the People" curriculum books. In addition, she provides communication with law offices, attorneys, judges and other legal professionals to solicit their participation as attorney-coaches on a yearly basis. The program continues and remains strong largely due to the hard work and dedication of Judge Murguia.
2011 Mark Santana LRE Attorney of the Year
Hon. Daniel Barker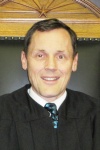 Dan was the creative energy and nurturing force of the Arizona Court of Appeal's Connecting with the Community Committee. The committee, with a high school, a local area bar association and the Foundation, has, since the fall of 2002, scheduled an appellate oral argument twice a year at different high schools. The purpose of the program is to expose the students to the law, lawyers and judges. Before the argument, Foundation staff work with students to educate them about the appellate issues and help prepare them for the argument. After the argument, the students can ask the lawyers about the case, can question judges (who were not on the panel), as well as members from the local bar association and law clerks. The program not only exposes students to professionals, it helps them to learn that there is more to the law, lawyers and judges than what they might read about or see on television. The program has held arguments in 16 high schools across the state. The Connecting with the Community program is the most of Dan's recent law related education projects. For many years, as a superior court judge, he organized a yearly mock trial for all the 5th grade classes at Greenfield Elementary School, Gilbert, AZ. No doubt some students have gone on to participate in their high school mock trial programs. Dan has also been active in ASU's J. Reuben Clark Law Society. Not only did he and his spouse, Erin, host events for the students in their home, they also have served as presenters for the students at educational programs.
2010 Award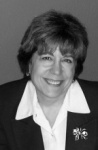 The Hon. Susan Shetter (top) and Janice Wezelman have volunteered their time with the Mock Trial program for the last 15+ years, giving up many weekends through October and March each year. As a team, they teach University High School students in Tucson about rules of evidence, how to enter and respond to objections, and the best way to craft direct and cross examinations. Susan and Janice teach the students that it is important to understand all points of view in a case, and to understand each person's story. Students learn how to operate at the highest level of professionalism in the courtroom and to expect the best from themselves.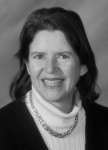 Susan and Jan are "tireless in their devotion" and their "enthusiasm is infectious." The work they have done has touched countless students, many of which they still stay in contact with to this day.
2009 Award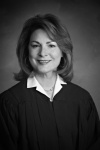 Judge Barbara Rodriguez Mundell has supported law-related education in many forms throughout the years, from being the spokesperson for the State Bar's Law Day video contest to creating a Spanish-speaking DUI court—which now has a graduation rate that surpasses the English speaking DUI court. Her goal as presiding judge is to establish a community outreach program for the court. She established a Director of Community Outreach post to hold a series of public forum meetings at community colleges throughout the county. This post facilitates not only education of the public, but also getting feedback from the community.
2008 Award
Pam and Bill Gates have been involved with the Arizona Foundation for Legal Services & Education for a number of years and in many capacities. They have volunteered for the Arizona Mock Trial program for over five years. Their roles have ranged from volunteer attorney coaches to district coordinators. Pam and Bill have spent countless hours of their own time each year to make sure that teachers and their teams are matched up with volunteer attorney coaches. They then go on to help the other Maricopa County District Coordinators to host the Mock Trial Regional Tournament each year, with anywhere from 40-50 teams participating. This includes an entire day of four rounds of competition, lunch, and an awards ceremony. In 2008 they took over recruiting judges for the regional tournament, no small feat, and were successful in providing judges in every courtroom to hear teams present their cases. They have also served as faculty for Law, Civics and Citizens statewide conference held each year by the Arizona Foundation, as well as for the Mock Trial 101 Academy.
2007 Award
Pinal County Judge William O'Neil has served as a Judge of the Superior Court of Arizona in Pinal County for 15 years. Included in this time, he has served as the Presiding Judge for the Superior Court of Arizona from 2001-2005 and the Presiding Juvenile Judge from 1992-2001. Judge O'Neil has proven to be committed to the youth of Arizona. He has generously donated his time to assist with the Mock Trial Competitions in Florence, Arizona, coached various Little League teams, City Soccer teams, and Club Soccer teams. In addition he has been instrumental in speaking with youth about the court system and the benefits to choosing a positive life path. Judge O'Neil has made speaking with youth a priority and made time for many educators throughout Pinal County to bring their students into his courtroom to watch the Juvenile Justice System in action. Judge O'Neil speaks with the youth not only as a Judge but as a friend and role model.
2006 Award
Danielle Janitch from Osborn Maledon, Denise Quinterri of the State Bar of Arizona, and Roni Tropper of Community Legal have put in countless hours coordinating and volunteering for the Volunteer Lawyer Program's Children Law Center. The Center increases services to children with programs such as the Free Legal Advice Clinics for Teens, the Guardian Ad Litem Project, the Guardianship Project, Teens at Work 101, the Dependency Project and the Adoption Project.
Past Winners
2005
Dewain Fox, Fennemore Craig
Danelle Liwski, Pima County Juvenile Court
2004
Honorable Nicole Laurin, Gilbert Municipal Court
Honorable Peter Swann, Maricopa County Superior Court
2003
Honorable Charles W. Gurtler, Jr., Mohave County Superior Court
2002
Lynda Shely (Director of Lawyer Ethics, State Bar of Arizona)
2001
Hon. Robert M. Brutinel (Presiding Judge, Yavapai County's juvenile court)
2000
Lisa Coulter (Snell & Wilmer, Phoenix)
1999
Honorable Roxanne Song Ong (Phoenix Municipal Court, Phoenix)
1998
James Conlogue (Hitchcock, Hicks & Conlogue, Bisbee)
Timothy R. Hyland (Bess & Dysart, Phoenix)
1997
Wendy S. Morton (Maricopa County Attorney, Phoenix)
1996
Michelle T. Lopez (Kimble, Gothreau & Nelson, Tucson)
1995
Keith Bevan (Teilborg, Sanders & Parks, Phoenix)
Adrianne Kalyna (U.S. Trustee, Phoenix)
Jim Lee (State Bar of Arizona, Phoenix)
Candyce Pardee (Gila County Attorney, Globe)
1994
Jim Blake (Maricopa County Attorney, Phoenix)
Mike Goimarac (Apache County Attorney)
Heidi McNeil (Snell & Wilmer, Phoenix)
Janis Ann Sterling (Sole Practitioner, Prescott)
1993
Jay M. Abbey (Retired Judge, Navajo County)
Thompson, DeRose, Montgomery, Cahill (Globe & Lakeside)
Charles Irwin (Elledge & Irwin, P.C., Sierra Vista)
Jay Zweig (Gallagher & Kennedy, Phoenix)
1992
Carey Hyatt (Arizona Court of Appeals, Phoenix)
William T. Kiger (Sole Practitioner, Prescott)
Barbara E. LaWall (Deputy County Attorney, Pima County, Tucson)
Brian Weinberger (Kalish, Forrester and Torres, P.C., Phoenix)
1991
Paul Blunt (Sole Practitioner, Phoenix)
Paul D. Julien (Sole Practitioner, Tucson)
Maricopa County Attorney's Office, Phoenix
Candyce Pardee (Gila County Attorney)
1990
Karen Adam, Judge (Pima County Superior Court, Tucson)
David Gaona (DeConcini, McDonald, Brammer, Yetwin & Lacy, Phoenix)
H. Jeffrey Coker, Judge (Coconino County Superior Court, Flagstaff)
Snell & Wilmer Law Firm, Phoenix
1989
Paul Brinkmann (Mangum, Wall, Stoops & Warden, Flagstaff)
Michael J. Donovan (Suciu, Donovan & Schmitt, Yuma)
1988
Pima County Attorney's Office, Juvenile Unit - Tucson
---