John J. Ross Memorial Award for Excellence in Law-Related Education
Nominations are due March 1st and are to include the individual's name; school; address & other contact information; the award for which they are being nominated and contact information of the nominators; a summary of their characteristics, experiences, and service that qualifies them for the award; and support letters from others may be included. The nomination should be sent to The Arizona Foundation for Legal Services & Education, ATTN: Kevin S. Ruegg, 4201 N. 24th Street, Suite 210, Phoenix, AZ 85016 or fax to 602-271-4930. You may also email materials to info@azflse.org
2016 Winners
Officer Nathan Goetz
Santa Maria Middle School
Program: School Safety Program
Maricopa County
Officer Nathan Goetz, Santa Maria Middle School, Phoenix, has been working as the School Resource Officer for two years and has more than 400 hours of student, teacher and parent contact hours in Law-Related Education. His nomination states, "Officer Goetz is one more of the teachers in the school. He is seen as the teacher that helps students and adults to prevent situations that may cause us to get in trouble with the law." Officer Goetz has reached out to partners in the community to include them as guest speakers for his LRE classes. The partners include CVS pharmacy (dangers of prescription drug abuse), Tumbleweed (safe haven), and Touchstone behavior (Shape lesson plan). He also brings in other officers from the Youth Alcohol Squad, K-9, and Community Action Officers for car seat installations. In addition, he leads an active WAKE UP program where youth are exposed to learning opportunities and community service projects. Officer Goetz's involvement is extended to after school programs, weekend projects with students, and supporting the families of students.
Janice Koenig
Dysart High School
Program: Mock Trial, Teen Court
Maricopa County
Ms. Janice Koenig, a teacher at Dysart High School in Phoenix, not only participates each year with her students in the mock trial program, but also runs the Teen Court program. She has worked tirelessly over the past 12 years to build both programs at her school despite the economic challenges in her district.
She strives to keep up with current professional development options with both mock trial and teen court so has attended various LRE academies over the years.
In 2015 she raised the money necessary to make sure her teen court students were able to travel to Flagstaff and participate in the Youth Summit.
Brenda Lee
Prescott High School
Program: Mock Trial, Teen Court, We the People
Yavapai County
Ms. Brenda Lee, a teacher at Prescott High School, has participated over the past 12 years in LRE Academies, LRE Conferences, the mock trial program, the teen court program, and took over for the We The People teacher this past year, as he was out for medical reasons and couldn't finish preparing the students for the regional competition. Not only did she help with the class, but she helped the events coordinator plan the regional competition at her school.
She believes in law related education and the impact it has on students so much that when she moved from Phoenix to Prescott she made sure to implement the programs in her new school!
Erika Sparlin
Cornado K-8 School
Program: ICIVICS
Pima County
Erika Sparlin, a teacher at Cornado K-8 School in Tucson, has been an enthusiastic participant of the Foundation's LRE Programs since 2013. Erika first began utilizing the iCivics Arizona Program with her students in 2013 and has continued to participate each year. She has been instrumental in moving the program forward by providing valuable feedback based on her implementation. Each year she encourages civic education in a manner that allows the students to have fun while learning. Erika seeks news ways to educate her youth by receiving professional development to enhance her content knowledge. She has recently began to utilize the We the People program and in her very first year of implementation, she is taking 4 of her classes to Washington D.C. so that her students can participate in the We the People National Invitational. This type of participation requires the teacher to fundraise in order to allow her students to attend. The cost per class is approximately $30,000. You can see that she is dedicated to her students and civic education. Erika is willing to go above and beyond for her students. She consistently strives to give her students the best there is to offer.
2015 Winners
Shari Anton
Shadow Mountain High School
Program: CSI
Maricopa County
Ms. Shari Anton, a teacher at Shadow Mountain High School in Phoenix, not only participated with her students in the CSI program when it was administered by the Foundation, but took over the competition aspect of the program after the Foundation no longer received funding for the program. She has worked tirelessly each year (over 5) to put together the competition and to include other schools from around the state. The competition is thriving and is scheduled again for this April.
She is also one to share her law-related educational knowledge, as well as her students, with other organizations by putting on CSI demonstrations for events such as the Teen Court Youth Summit.
Anna Van Zile
Payson High School
Program: Mock Trial
Yavapai County
Ms. Anna Van Zile, Principal/Teacher at Payson High School, has worked for many years to grow and maintain the mock trial program at her school. For over 5 years her students have participated in the regional mock trial tournament, traveling to either Prescott or Flagstaff, and two times out of the past 5 years has received an invitation to the state mock trial tournament.
She also believes in law related education to the point of writing curriculum and promoting it to her district to be included as a core subject.
Norma Jean M Higuera-Trask
Challenger Middle School
Program: We the People
Pima County
Ms. Norma Jean M Higuera-Trask participates with her middle school students from Challenger Middle School in Tucson in both the regional and state level We the People competitions held each year. They could stop there but she inspires her students to attend the National We the People Middle School Invitational in Washington, DC, where they take numerous awards. She and her students are responsible for raising over $20,000 each year from their community in order to pay for the trip.
Norma Jean also serves as a mentor for the We The People Summer Institute and participates with her students in the iCivics program administered by the Foundation
Jenifer Meadows
Walker Butte K-8
Program: ICIVICS
Pinal County
Jenifer has been implementing the iCivics Arizona program since its inception in 2010. Jenifer has exceled in this program by winning the competition consecutively over the past 2 years. She has been creative in her implementation by incorporating iCivics throughout multiple strands of her civics class. While many educators incorporate civics during the first half of the school year when it is required in the Arizona state standards, Jenifer sees the value of including civics all year round. This year she switched from a middle school to a high school. Instead of leaving the iCivics Arizona Program at her previous school, she carried it on to her new 9th grade class. Due to her creativity and commitment to civics, she has been asked to serve as LRE Academy faculty so that she can share her expertise with other educators.

2014 Winners
Becky Fitch
Franklin Phonetic Primary School
Yavapai County
She has been involved in the Project Citizen program for 10 years and her teams have taken top honors at the district, state and national levels.
She has continued to teach the program at each of the schools she has been employed by, thus spreading the knowledge of the program to schools around the Prescott area. She works with her students inside and outside the classroom modeling for them how to be good citizens, how to exercise their rights in a positive and respectful manner, teaching them about current events involving all branches of our government, and how our system of government works.
Becky is currently a first year principal at Franklin Phonetic School and runs the school′s gifted program. The work that Becky is doing with these students will benefit them a lifetime. They are learning to look at our community and figure out what can be changed to make it better. That is such a valuable tool that this world needs to see more of in kids.
Heather Matchett
Lineweaver Elementary
Pima County
I strongly feel that Ms. Matchett is deserving of the John J. Ross Award, because her enthusiasm, clear guidance, dedication and love of teaching showed my son that he, even as a child, had a voice and could make a difference in the world around him.
As an educator Ms. Matchett has taken her love of law and public policy into her classroom where she has fostered and encouraged her students to develop a positive attitude about becoming an active citizen. Ms. Matchett has used this program, Project Citizen, since 2007 as a tool to foster not only law and policy making but also to encourage responsible citizenship within her students and their family members by actively being aware of what is happening in the world around them and to encourage them to become active in their government′s decisions.
She works hard with the students. She doesn′t stop working because the bell rang at the end of the day. Her students are her life, her extended family and her other children m. Even now when my daughter is in eighth grade she still checks up on her and she still calls her, her Ambee.
Michael Dillon
Metro Tech High School
Maricopa County
Michael took over the program two years ago when only three members were left. He actively recruited students to the program and when lunchtime was the only time students could all meet he sought donations and used his own money to make sure the students had lunch at their weekly meetings. The team went from 3 members to the initial meeting this year having more students than desks in his classroom. The school now has two full teams.
Mr. Dillon has created an excellent curriculum for the students to utilize prior to the competitions. He has put in an enormous amount of time and effort into making this program succeed for his students. His students and fellow coaches submitted the nomination forum.
Ofc. Matt Blech
Bogle Junior High School
Maricopa County
Ofc. Blech embodies all of the characteristics of an excellent SRO, teacher, mentor and police officer. Matt offers interactive lessons on responsibilities to know and protect our Constitutional rights. He offers lessons that align with school curriculum. He also offers classes that educate parents as well. Matt has given up his off-duty time to host a Wilderness Retreat for some of our most disadvantaged population.
Provides on going staff training and information on current trends in school violence, gang awareness, and community issues
Serves as a member of the school Site Council giving an annual overview of school safety practices
Supports administration in counseling students demonstrating at reisk behaviors
Is a resource for parent referral
Designs and schedules annual anti-bullying presentation for all 7th graders
Collaborates with other teachers to tie in LRE content
Supervises the daily movement of buses and monitors students both before/afterschool and during lunch.
"I never really had a fatherly mentor in my life and in a way I think of him as a father just because of how he treats me and others around him," 8th grade student
2013 Winners
Ellyssa Eiring
Copper Basin
Pinal County

Ms. Eiring has led the school district in two law related areas: iCivics and Mock Trial for the past three years. At the present time, Ellyssa has two teams participating in the Pinal County Mock Trial Event and is part of a team spearheading the promotion of the iCivics program within 7-12 classrooms. Ms. Eiring was chosen to participate in a program with the O′Connor House and ASU to create videos which will hopefully encourage teachers to include daily iCivic lessons and practices in their classrooms. Ellyssa is also dedicated to the Mock Trial program. She introduced Mock Trial to the district three years ago and teaches these students law related curriculum on her prep time and after school. This year she is taking two teams to the Pinal County Event, giving twice as many students the opportunity of a life time.
For the past three years, she continues to teach them within and outside the classroom how to be good citizens, exercise their rights in a positive and respectful manner, learn current events from all branches of our government, issues from around the world, and how our system of government works.
Dawn Burstyn-Meyers
Salt River Elementary
Maricopa County/Salt River Reservation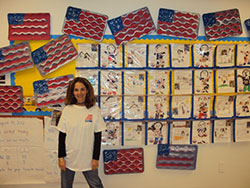 I have never seen a more enthusiastic teacher about the Kids Voting program. She utilizes the program to do student council elections and involves the community in the process. During the 2012 election, she had the Salt River Police Chief visit. She had weekly elections on a variety of topics like "favorite pet" or "favorite food." Then on Election Day she had the President and Vice President of the Tribal Council speak to the students about the importance of voting. She organized a rally on Election Day with the high school color guard, a voting cheer and many other activities.
Ms. Burstyn-Meyers in front a wall of several different projects her students did around voting
Wiley Popovich
Smith Junior High
Maricopa County
Wiley is an extremely dedicated teacher and mentor to our 7th and 8th graders. He is passionate about the Project Citizen program in which he has sponsored the last four years. He puts in a lot of extra time making this a successful experience for the students who participate each year. Wiley understands the importance of giving students the opportunity to problem solve issues that affect their community.
Students, with the help and expertise of Mr. Popovich learn skills in collaboration, research and public speaking. What makes this a successful program here at Smith is how Wiley instills in the students the relevance of all that they do while participating in Project Citizen. The students learn the skills needed to be successful for their presentation but ultimately these are skills that will help in their future school endeavors as well as their career opportunities.
Justina Powell
Thunderbolt Middle School
Mohave County
I would like to nominate Justina Powell for the John J. Ross award. She is a teacher at Thunderbolt Middle School and has worked with her middle school students to develop citizenship skills. She has implemented iCivcis and We the People in her classroom and has helped other teachers start the program in their classrooms as well. Justina encourages her students to problem solve and think critically about political and historical issues. She is an excellent candidate for this award.
2012 Winners
Bill Young - Mohave County Probation Department

Officer John Talley - Alhambra High School

Amy Price - Sonoran Heights Middle School

Terry Green - Blue Ridge High School

2011 Winners
Officer Shawn Benjamin - Canyon Del Oro High School

Jill Benza - Skyline High School

Jaime Festa-Daigle - Lake Havasu High School

Eric Miller - Joseph City Junior and Senior High School

2010 Winners
Elaine Potes - Centennial Middle School - Yuma

Felipe Navarro - Somerton Middle School - Somerton

Natalio Sabal - Douglas High School - Douglas

David Nach - Mountain Pointe High School - Phoenix

2009 Winners
Marc Crowley - Jess Schwartz College Prep - Phoenix

Mark Goligoski - Prescott High School - Prescott
Nona Hanson - Benson Middle School - Benson

Charlene Roll - South Mountain High School - Phoenix

2008 Winners
George Colebrook - Landmark Middle School - Glendale

Lisa Flores - Cactus Middle School - Casa Grande
John Cosden - Xavier High School - Phoenix
Patrick McAndrew - University High School - Tucson


2007 Winners
Jim Maner - Capps Middle School - Heber

Jim Norman - Hamilton High School - Chandler

Past Winners
2006
John Nitka - Palo Verde Magnet High School - Tucson
Rich Curtin - Palo Verde Middle School - Phoenix
2005
Cheri Bludau- Tucson Unified School District - Tucson
Duane Phifer - Desert Sands Middle School - Phoenix
John Halverson - Desert Sands Middle School - Phoenix
2004
Charlene Roll - South Mountain High School - Phoenix
Lisa Adams - Corona del Sol High School - Tempe
Lori Rodriguez - East Globe School - Globe
Phyllis Wolfskill/Cindy Pickett - Sinagua High School - Flagstaff
2003
Patricia Downing, Crane Middle School, Yuma
Abby Dupke, Dobson High School, Mesa
Dave Franquero, Globe High School, Globe
Tim Smith, Corona del Sol High School, Tempe
2002
Cathy Currier, Sahuaro High School (Tucson)
Michael Spears, Hamilton High School (Chandler)
2001
Darla Johnson, Bradshaw Mountain High School
Arlie Hunt Anderson Junior High School, Chandler
Robin Andre, Shelly Baker and Georgia Davidson Mile High Middle School, Yavapai County
2000
Tammy Waller - Mountain Ridge High School, Glendale
1999
Julie McCall - Madison #1 Middle School, Phoenix
Nancy Haas - ASU West, Phoenix
Kathy Williams - Dobson High School, Mesa
Sarah Cromer - South Beaver Elementary, Flagstaff
1998
Jody Arnold - Liberty Elementary School, Buckeye
Judy Cox - Thornydale Elementary School, Tucson
Marilyn Easton - Thornydale Elementary School, Tucson
Elnora Johnson - Blue Ridge School District, Lakeside
Janet Thor - Centennial Middle School, Phoenix
1997
Katheryn Hedges - Deer Valley High School, Phoenix
Betsyann Wilson - Thornydale Elementary School, Tucson
1996
Connie R. Boulton - Wilson Primary School, Phoenix
1995
William Graham - Tempe High School, Tempe
W. Dorrean Walker - Prescott High School, Prescott
1994
Mildred (dede) Havens - Buena High School, Sierra Vista
Mary Jo Hilpert - South Mountain High School, Phoenix
Mary Platt - St John's High School, St. Johns
George Thomson - Nogales High School, Nogales
1993
Norma Jean Coulter - Madison #1 School, Phoenix
Paula Olson - Esperanza School, Tucson
1992
Darlene Speaker - Creighton Middle School, Phoenix
Lorene Ely - South Mountain High School, Phoenix
Ron Trent - Amphitheater High School, Tucson
Elnora Johnson - Blue Ridge Junior High School, Lakeside
1991
Tom Foster - Mountain View High School, Mesa
Kathy Hedges - Deer Valley High School, Phoenix
Winifred McAter - Flowing Wells High School, Tucson
George Thomson - Nogales High School, Nogales
1990
Richard C. Brown - South Mountain High School, Phoenix
Augie Zito - Paradise Valley High School, Phoenix
Towne Bishop - Rincon High School, Tucson
John Yanez - Miami High School, Miami
---