Foundation for Justice
Awarded to the attorney or attorneys who have devoted expertise and time to changing the justice system to promote access and opportunity for those most vulnerable.
Nominations are due March 1st and are to include the individual's name; firm if applicable; address & other contact information; the award for which they are being nominated and contact information of the nominators; a summary of their characteristics, experiences, and service that qualifies them for the award; and support letters from others may be included. The nomination packets should be sent to The Arizona Foundation for Legal Services & Education, ATTN: Kevin S. Ruegg, 4201 N. 24th Street, Suite 210, Phoenix, AZ 85016 or fax to 602-271-4930.
Awards Acknowledged in conjunction with the Foundation participation in the annual Arizona State Bar Convention.
2016 Award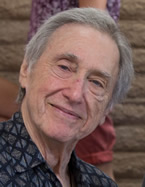 Hon. Gerald Strick
Judge Strick was appointed to the Maricopa County Superior Court bench in the summer of 1971. Within a very short time, Judge Strick had gained a reputation as one of the wisest and most sought-after judges in the County. Judge Strick was requested to do so on multiple occasions by many, if not most of the best trial lawyers in the county, and he worked tirelessly to try to accommodate them all. In those days, Superior Court judges's calendars were not specialized - most contained civil, criminal, domestic, probate and other cases. Judge Strick developed a reputation for fairness, promptness and knowledge in all of those areas.
In 1974, Judge Strick was asked to transfer to the Juvenile Court, as "second in command" to Presiding Judge Robert Broomfield. (In those days there were only two judges assigned to the Juvenile Court.) He did so, and began a long service dedicated to changing the way in which Juvenile Justice was administered in the County. He and Judge Broomfield presided over a complete change in the Court, not only its facilities, which included a new courthouse, new detention center, new school, and new administrative offices, but in the way in which Juvenile Justice was administered and delivered. During his tenure, Judge Strick helped to introduce a system less concerned with punishment and "warehousing," and much more concerned with saving juveniles from a criminal life, from a system treating dependent children more like criminals, and from an administrative system more concerned with rules and regulations than with the best interests of children. Throughout his time at the Juvenile Court, Judge Strick accomplished those goals while gaining and retaining the respect of prosecutors, defenders, probation officers and others working within the system.
2015 Award

Nominated by Community Legal Services, DNA Peoples Legal Services and Southern Arizona Legal Aid, Snell & Wilmer developed a formal pro bono policy, which both reflected and encouraged the firm's long-standing commitment to pro bono services. Starting in the late 1980's, this policy encouraged a flourishing of pro bono activity at the firm that continues today. Perhaps most significantly, the policy provided that Snell & Wilmer attorneys would receive hour-for-hour credit towards their annual billable goals for pro bono legal work performed on behalf of the poor. Snell & Wilmer was one of the first firms in the country to adopt such a policy. Snell & Wilmer remains dedicated to the communities in which we live and serve. As a law firm, the attorneys and paralegals regularly share their talents by providing pro bono legal services to the community. Their office implements a monthly schedule and assigns intake dates to participants each year. In 2014, over 9,288 pro bono hours, equating to over $3.8 million of gratuitous legal services, were provided from the Arizona offices. As a whole, over 19,572 pro bono hours, which equated to over $7.9 million of gratuitous legal services, were provided by the firm.
In addition to the strong support and pro bono service through the Volunteer Lawyer Programs, Snell & Wilmer supports the Veteran's Court and Annual StandDown Event. Arizona StandDown is an annual event held at the Veterans Memorial Coliseum. The event provides numerous services to at-risk veterans, including a make-shift Veterans Court and legal clinic. For the fourth year, firm attorneys and staff played an integral role at Arizona StandDown with almost 1,000 veterans in attendance. The firm's key focus for 2014 was to help the growing number of veterans who have legal issues in other states. This year, approximately 150 homeless and at-risk veterans fell into that group. The Snell & Wilmer team drew on its contacts across the country to assist in clearing warrants, reinstating drivers' licenses and locating or provide general legal representation in other jurisdictions. Snell & Wilmer attorneys also represented veterans in the criminal courts present at the StandDown.
2014 Award

Anne Ronan
Since 1991, Anne has been with Arizona Center for Disability Law, where she represents children and adult with disabilities in obtaining necessary and appropriate medical and mental health services. She is the attorney representing the class of children entitled to Medicaid-funded mental health services in J.K. v. Eden and the class of adults with serious mental illness in Arnold v. Sarn which did not reach a final resolution until this year. The class action case, filed in 1981, required the State of Arizona and Maricopa County to develop a full continuum of community mental health services to ensure that individuals with serious mental illness can live successfully in their community. The settlement agreement entered into by the Center, Governor Brewer and the Arizona Department of Health Services will significantly enhance the quality of and expand the capacity for community-based mental health services for thousands of people with mental illness, and provide for termination of the long standing litigation.
Anne began her legal service to the poor as soon as she graduated from law school in 1979. She worked for Community Legal Services from 1979 to 1990. She worked as the managing attorney in the Yuma and Mesa offices, and also as a senior staff attorney in the Phoenix office. Anne′s entire career has been spent representing the interests of the poor and disabled, helping to ensure that they receive the medical and mental health care services they need.
2013 Award

Ellen S. Katz
Since 1980, when Ellen Katz received her law degree from Washington University, she has devoted her expertise and time to changing the justice system to promote access and opportunity for those most vulnerable. Since moving to Arizona, she has worked with a broad spectrum of legal advocacy organizations, including Southern Arizona Legal Aid, the Equal Opportunity Employment Commission, the Arizona Center for Disability Law and the Civil Rights Division at the Arizona Attorney General′s Office. She has now devoted over nine years to public advocacy with the William E. Morris Institute for Justice, where she remains a resource for other legal aid providers as well as an impact litigator in her own right.
Through Ellen′s advocacy the system for those most vulnerable has advanced in numerous areas. Ellen′s representation of the poverty population is extensive.
In addition to her focus of ensuring our judicial system is always aware of the needs of those who cannot afford representation, Ellen′s representation of the public strengthens the justice system by giving large number of people access through her advocacy on their behalf.
2012 Award

Gary Restaino
Gary Restaino's entire professional career has been dedicated to public service. Gary began his career in 1997 as a legal aid attorney at Community Legal Services in Phoenix. Combining a brilliant legal mind and social conscience with being fluent in Spanish, Gary was uniquely qualified. He employed his skills and was able to progress his career to the Arizona Attorney's Office, and in 2003 he was promoted to Division Chief Counsel of the Criminal Division for the United States Attorney's Office. In addition to Gary's "day job," he has generously provided his time on State Bar committees, and provided pro bono legal services to those most in need. "Gary does this because he believes in our legal system; but also he believes that our legal system should not be available only if you have enough money or power or influence." Gary possesses an enduring commitment to justice and fairness that is unequaled.
2011 Award

John Bouma
Nominated by the Executive Directors of Community Legal Services, DNA People's Legal Services, and Southern Arizona Legal Aid, John Bouma's commitment to "justice for all" is demonstrated not only by his time and expertise devoted to helping ensure access to justice, but for his vision more than ten years ago which structured and designed the Arizona Equal Justice Foundation and Campaign. Although many shared his vision, it was John who gathered the founding firms and board members and guided them in achieving success as the first Arizona campaign "by lawyers for legal aid." Ten years later, he continues to work towards his vision being a reality. He takes active leadership in shaping the future of legal aid through the statewide campaign. To date, under Bouma's leadership, the Arizona Equal Justice Campaign has raised more than $4 million to provide legal aid to more than 40,000 of our state's most vulnerable residents. "When Henry David Thoreau said, 'It's not what you look at, it's what you see,' he could have been thinking ahead to the likes of John J. Bouma. John looked at a need, and took action. His vision has spanned a decade and continues to inspire."
2010 Award

Elvera Anselmo was a compassionate and tireless advocate for those in need. This past February, Anselmo passed away at the young age of 57. Her entire life was dedicated to fighting for economic and social justice for vulnerable persons.
For several years after graduating from Blackburn College with a degree in Education, Anselmo traveled and worked around the world with the United Nations. When she returned to the States she worked to protect women from violence and to provide housing to the homeless. She lobbied both Arizona and Illinois legislators on behalf of low income people, provided training and continuing legal education, and worked to protect senior citizens against fraud and abuse at the Attorney General's Office, Governor's Advisory Council on Aging and AARP. She was a courageous and dedicated fighter for equal justice for all, and will be missed by the justice community as a whole.
2009 Award

Mike Valder has a long history of fighting for justice. As a law clerk in the late 60s, Mike served as pro bono counsel for 19 community groups in the greater Philadelphia area. He also volunteered as criminal defense lawyer under the Criminal Justice Act, and represented a photographer assaulted by police and arrested during a Vietnam demonstration at the Watergate apartments. He then went on to develop curriculum for training public interest and legal service attorneys.
After moving to Arizona, he was instrumental in developing landmark litigation involving such issues as equitable funding for public schools in economically depressed school districts, adequate state funding for the care of seriously mental ill patients, and a variety of environmental justice issues.
After being involved with Phoenix Youth at Risk and Threshold Foundation, Mike and his wife Janet started the Arizona Social Change Fund. Before they closed the fund in 2008, they had granted over $400,000 in support of systemic social change projects by grassroots non-profit community organizations that address root causes of social, economic, and environmental injustice.
Mike continues to be President of the Arizona Advocacy Network and consults with clients and lawyers on a part-time basis.
2008 Award
Comm. Frederic Dardis
2007 Award
Keith Perkins
2006 Award
Hon. Colin Campbell
Inaugural 2005 Award
Scott Bales
---