Mock Trial
2014 -15 CASE NOW AVAILABLE FOR DOWNLOAD! Please click here.
---
Don't forget to register your team by January 31, 2015.

Good luck!
2014-15 Mock Trial Tournament Dates
The 2014-15 Mock Trial Tournament dates have been set! The Regional Tournaments will be held in courthouses around Arizona on March 7, 2015. The State Tournament will be held at the Federal Courthouse in Phoenix on March 28, 2015.
CONNECT THE LEGAL WORLD WITH YOUR CLASSROOM!
Teachers... Are you interested in coordinating a classroom visit from an Arizona attorney or judge? If so, please contact Susan.Nusall@azflse.org. to receive a list of volunteer attorneys and judges in Arizona and a link to available lessons plans prepared specifically for these visits!
What is Mock Trial?
The Arizona High School Mock Trial program, cosponsored by the Arizona Foundation for Legal Services & Education and the State Bar of Arizona's Young Lawyers Division, teaches students in grades 9-12 about the law and the legal system by participating in a simulated trial. The program is an opportunity for students to learn about the law and the legal system from practicing attorneys; for teachers to work closely with attorneys to reinforce legal concepts in the classroom; and for attorneys to share their expertise about the law and their legal skills.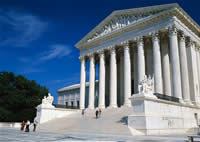 How Does It Work?

Students have the opportunity to learn from practicing attorneys; teachers work closely with attorneys to reinforce legal concepts in the classroom; and attorneys have an opportunity to share their expertise about the law and their legal skills. Mock Trial teams, consisting of six to eight students, a teacher/coach, and an attorney/coach, receive a fictional case in November. Each team must learn both sides of the case and students must play the roles of both attorneys and witnesses. Teams work together to learn the facts of the case and create strategies for trial.
Tournaments

Regional tournaments are held in late February, in which teams present their cases before a real judge. The winning teams of each regional tournament, the teams with the most convincing presentations, are invited to compete in the State Tournament held in Phoenix in March. The winner of the State Tournament is eligible to compete at the National High School Mock Trial Championship held in May. Recognized as one of the top programs in the country, Arizonas representative at the National High School Mock Trial Championship won the championship in 1997 and finished in the top ten in six of the last ten years. If your school is not currently participating in this exceptional extracurricular academic program, we invite you to make this the year to start.
Goals
The goals of the Arizona High School Mock Trial Program are:

To give students a better understanding of the legal system - from the rules of evidence to proper court decorum. This increases their awareness of the importance of law in a democratic society and strengthens understanding of their fundamental rights under the U.S. Constitution
To promote increased confidence, poise, oral skills, critical thinking skills and teamwork skills.
Arizona Academic Standards

By participating in the mock trial program, students are able to achieve many of the Arizona academic standards including:
Workplace Skills
Standard 1 Effective oral, written, listening and communication skills
Standard 3 Application of critical thinking skills
Standard 4 Working individually and with teams to accomplish objectives
Standard 5 Demonstrate a set of marketable skills which enhance career options
Language Arts
Standard 1, Objective 1 Extracting, summarizing, clarifying, interpreting, predicting, events, relating material to prior knowledge, supporting assertions with evidence
Social Studies Standards
Standard 1, Objective 2 (Proficiency) Historical research skills and analytical skills
Standard 2, Objective 3 (Proficiency) Analyze rights, protections, limits, and freedoms included in the U.S. Constitution and Bill of Rights
Standard 2, Objective 4 (Distinction) Prepare for and successfully participate in a competition or simulation such as a mock trial
Court Artist Contest

As an added feature of the Mock Trial program, we invite artistically talented students from schools participating in the Mock Trial Tournament to submit a drawing of an actual courtroom scene for judging in this state-wide competition. For more information, or to register, click here.
Mock Trial Academy
The Arizona Foundation for Legal Services & Education offers training programs for teachers and / or attorneys who are new to the program, at which each participant receives a personal copy of the Mock Trial Teachers Manual. You are invited to take advantage of this excellent professional development opportunity! To learn more about this and other training opportunities, visit www.azflse.org/academy.
Volunteer Attorney Coaches
The huge success of Arizona High School Mock Trial program is due in large part to the volunteer support provided by the Young Lawyers of Arizona. If you are an attorney and would like to participate in the Mock Trial program as a team coach, please call the Foundation at 602-340-7361. If you are a teacher and need a volunteer attorney coach for your class, please contact your District Coordinator.
Funding for State and National High School Mock Trial Championships
The Young Lawyers of Arizona have provided limited funds to help cover some of the costs of lodging and breakfast for students and teacher-coaches for teams from outside of Maricopa County that advance to the State Tournament. Teams may also want to consider fund-raising throughout the year in anticipation of travel to the National High School Mock Trial Championship.
Check out ABOTA's Justice by the People!
---